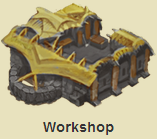 A Workshop trains siege Units and is built from a level 5 or higher University. Before you can build it, you must have an Armory and a Blacksmith, both at level 3 or above.
Workshop can train and upgrade:
Technology
Edit
Workshop can research:
Helepolis Diet
Catapult Diet
Each Workshop can only research one Diet technology.
All structure and unit stats, cost to upgrade per level, and other abilities can be seen on the Official Database Entry
Structures

 Armory ·

 Barrack ·

 Basement ·

 Blacksmith ·

 Cannon Tower ·

 Farm ·

Foundry

 Lumbermill ·

 Lumbering Camp ·

 Market ·

 Refinery ·

 Stable ·

 Tower ·

 Town Center


 Trading Post ·

 Training Ground ·

 University ·

 Vineyard ·

 Workshop